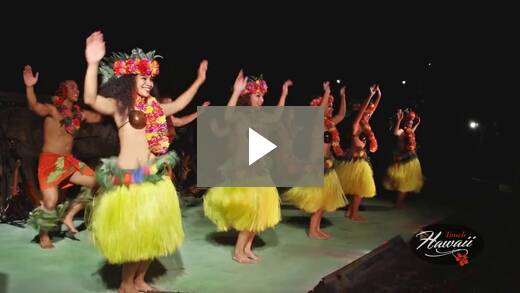 One of the best luau's on the Big Island is the Sunset Luau at the beautiful Waikoloa Beach Marriott on the Big Island's South Kohala Coast. Situated on picturesque Anaeaho' onalu Bay, Waikoloa is a great place for  for swimming, diving and snorkeling or just about any water sport.
The Sunset Luau is a major draw for the area and makes for a great evening of entertainment. Family friendly, this venue is rich in ambiance, with live music, and a very talented polynesian cultural perfomance troup. A highlight is the spell-binding Samoan fire dance, performed by the son of the show's producer!  "I just loved the show!" exclaimed Colene, a guest from Seattle area. "The dancers had outstanding energy and precision." Other guests remarked on the music. "Oh, the music was wonderful, starting with the slack key and more modern music–both instruments and vocals were great–and then they really get roudy during some of the traditional polynesian dances. Musicians and dancers were tight!"
During our time at the Sunset Luau, guests enjoyed the open bar, and a delectable selection of contemporary and Hawaiian fare. From fresh fruit appetizers to the quality buffet style entrees, there seemed to be something for everyone.  The host and producer Kuno warmly welcomed all with an opening blessing and an invocation sung in Hawaiian. Many guests joined hands at their tables prior to dinner. The warm hospitality and feeling of ohana, or family made a deep impression on many.
The Sunset Luau is a highly recommended attraction for your itinerary on the Big Island.