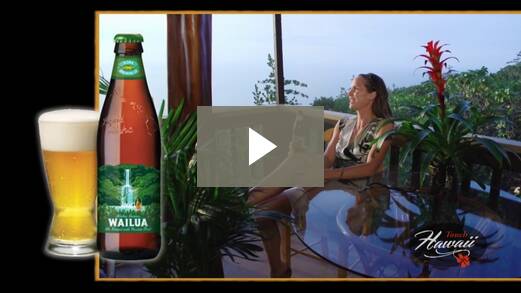 Kona Brewing Company was started by father and son team Cameron Healy and Spoon Khalsa. The pair had a dream to create fresh, local island brews made with spirit, passion and quality. Their love of Hawaii, and a desire to protect the pristine environment here, brought them to the Big Island to fulfill their vision. Kona Brewing continues to be headquartered right where it began, in Kailua-Kona on Hawaii's Big Island.
Kona Brewing produces more than a dozen varieties of craft beers and ales. Kona's top selections—Longboard, Big Wave, Fire Rock, Koko Brown, Wailua Ale and Pipeline Porter are bottled for distribution across 36 states and nine countries. At this brewery, the staff of six produces an impressive 310,000 gallons of brew a year, or 4,000 kegs, for enjoyment throughout the islands. The brewery is an impressive amalgamation of sophisticated brewing technology and time honored craftsmanship. You can see it all at the brewery tour, and the staff are more than happy to explain the brewing process and answer your questions.
The Kailua-Kona Pub right next to the brewery, opened in November 1998. An enormous mahogany log that washed ashore in Kailua Bay was used to adorn the masterpiece Koa wood bar. The featured ohia wood posts used on the lanai came from South Kona.
The rusty corrugated tin that provides a shade roof over the outdoor lanai came from an old Holualoa okolehao (liquor distilled from ti root) distillery. Here you are able to sample many other specialty beers besides the most popular that are bottled and shipped. And the pub has a wonderful ambiance, with flickering tiki torches and lush tropical foliage. As far as food, the pub is known for great hand spun pizzas, local organic salads and fresh beers on draft that you can't find anywhere else. Every Sunday evening local musicians provide live entertainment. Brewery tours are available seven days a week at 10:30 am and 3:00 pm.