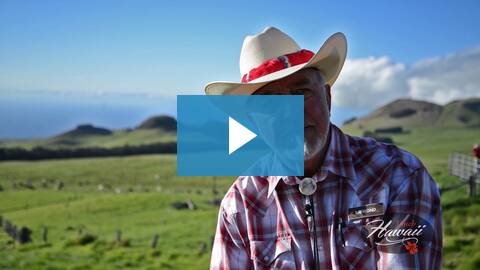 Your visit to the Big Island is not complete without experiencing the rich heritage of ranching in Hawaii. The Kahua Ranch is a real working cattle ranch of 8,500 acres, situated 3,200 feet above the sea in the idyllic Kohala Mountains.
The scenery of verdant rolling hills high above the Pacific Ocean is astounding. Hosts Raymond and Sue Fout at Evening at Kahua Ranch have the unique gift of making every guest feel deeply welcomed. A member of the ranch family adeptly entertains guests with humorous yet informative stories of the unique ways of raising cattle on the islands–including shipping the critters to the mainland via 747 jumbo jet!
Evening at Kahua Ranch includes a delicious barbeque of steak, chicken and all the trimmings, and generous supply of soft drinks, wine and Kona micro-brews leaves no one disappointed. Live demonstrations of line dancing, roping and branding as well as live music, sing along, marshmallow roast around the campfire and good fellowship leaves each guest basking in the warm afterglow long after they've left the ranch.Evening at Kahua Ranch is highly recommended by the Touch Hawaii crew!